Is it worth giving your data to the insurance company for a discount on insurance? Maybe. It all depends on what they are doing with your data, which for the most part is unknown. Are they selling your data to ad companies or are they trying to use the data against you? Maybe they just want to make sure you are a safe driver and have altruistic reasons. Maybe not. They are a business with the number one goal being to make money, after all.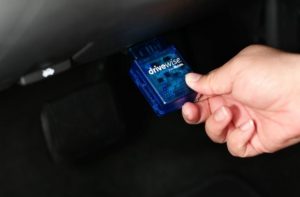 Car insurance companies have been offering discounts for years for allowing them to hack into your car and track your driving. Progressive Insurance company started doing this in 1998 with the snapshot insurance discount. Other insurance companies have followed suit and offer discounts for using the tracking device, Allstate uses drive wise.
Insurance companies will offer a discount if they deem your driving has been safe. Some companies require you to use the device for 90 days, 180 days, or all the time, in order to get the discount on insurance policies.
These devices are either plugged directly into your cars computer system or use a smartphone app to track your driving. The device can monitor your speed, location, braking, and more. Generally, the insurance company is looking to see if you are speeding regularly or braking hard, which may indicate you are not paying attention to the road. It can also see if you roll through stop signs as most of these companies hook the technology up to GPS systems to show mapping of traffic lights and stop signs.
Additionally, the GPS system can track your whereabouts and if you drive in "high risk areas" that are prone to break ins. It also tracks if you drive at night, which can be seen as a risk by insurance companies.
Insurance companies have wide discretion to determine whether or not someone has a driving record based on the information from the tracking device to warrant a discount in insurance. They can site whatever they want really and may not give you a discount.
What could be good about using these trackers is that they possibly could be used to determine who was at fault for a car accident or not. They could show position, speed, and braking to give more information to a he said she said argument. However, it is unknown how trustworthy these tracking devices actually are.
An insurance company could also just as easily use this device to say that you were at fault for a car accident and deny your insurance claim based solely on the data they can interpret and mold. This could cost you a lot of money in a personal injury case where you were severely injured in a car accident caused by a hit and run, only to have your insurance company deny your case because of their data on the car.
If you are injured in a car accident, whether it is a first party claim using your own insurance company because the other party did not have insurance or a third party insurance claim where they have insurance, you should hire a Seattle car accident injury lawyer. That way you are not bullied by insurance companies and their games. Get what you deserve, not what insurance companies want to pay you.