Driverless technology is not quite here as evidenced by a fatal car accident on Sunday night. An Uber self-driving car struck and killed a pedestrian in Arizona in the first known fatality involving an autonomous vehicle. Uber temporarily pulled its self-driving cars off the roads in all four cities across the US as a result of the car accident.  The killed woman was walking her bicycle outside of a crosswalk across the street when the car hit her.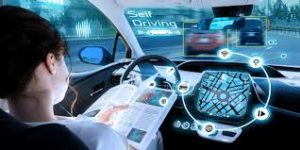 Driverless Cars Break the Law Speeding?
Car Accident Related Deaths Increase by 6% in 2016
According to the National Highway Traffic Safety Administration, 94% of crashes involve human error. The number of lives lost on U.S. roads surged nearly 6% to 37,461 in 2016, according to the USDOT. It is unclear whether the increase in car accident related deaths is in relation to growing interurban communities and more traffic on the road or speed increases around the nation.
Pedestrians and Others Poise Special Risks for Driverless Cars
While robot cars are being created to follow traffic rules, interactions with humans continue to present hurdles. Pedestrians, in particular, can confuse systems because they are unpredictable. Even human drivers struggle to deal with pedestrians. About 50% of pedestrian fatalities involve people running into the road, failing to yield the right of way or otherwise crossing improperly, according to research by Duke's Ms. Cummings. The Governors Highway Safety Association estimates nearly 6,000 pedestrians were killed in car accident in the U.S. last year, representing about 16% of all motor-vehicle deaths.
Driverless Tesla Accident in 2016
Tesla became the first auto maker to come under significant government scrutiny for a semiautonomous driving system when a man driving one of its Model S electric cars operating with the company's Autopilot system died in a May 2016 collision with a truck on a Florida highway. In that car accident, apparently the technology could not see the
Some research suggests that the driverless technology has a hard time determining what is a car, what is not a car, and determining and adjusting for objects that suddenly dart in front of the car. The 2016 Tesla crash involved the Model S hitting a truck that was crossing the road. The company said its car's system couldn't see the truck's white trailer against a bright sky. It isn't clear if Uber's laser sensors failed to detect the pedestrian.
Driverless Cars in Seattle
Late in 2017, Governor Inslee signed an Executive Order allowing driverless cars to be driven within the state of Washington. However, it is unclear how many driverless cars are currently driving around Seattle and Washington State as a result. Uber was doing an experiment with driverless cars in San Francisco, Phoenix, Toronto, and Pittsburgh before this car accident. While Lyft has driverless cars providing service in Boston currently.