I was reminded of the need to keep our children safe around our houses and at school from cars the other day when a young child was struck and nearly killed by a car. The child was playing just outside their house when he dashed into the street for a ball and was struck by a car. There are so many things we need to do to keep our children safe. Car accidents injuries to children are the worst. Here are some tips to keep your child safe around streets.
Teach your child about the dangers of streets and cars
Children should learn to fear streets. This is not an overreaction or an overstatement. This is the truth and one of the only ways to keep them out of the street. Young children like to play near streets but you should teach them that they should not. Teaching them about the dangers of cars and what it can do to people who are hit by cars is a hard subject but it has to be taught to them as early as they can comprehend speech.
Never allow your child to enter the street without you or an adult holding their hand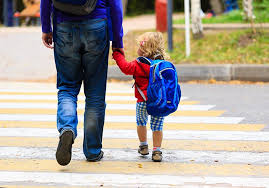 One of the ways to do this is to teach them that they are never allowed to cross or enter the street without you or an adult holding their hand. Tell them that this is very important to you and your family. Tell them that they will be in big trouble if they are caught doing this and will lose all outdoor privileges if they do. Regularly walking around and holding your child's hand can reinforce the need to always hold your hand while walking across streets. They realize it is a privilege to walk across the street and dangerous so they need you to reinforce this by always holding their hand when crossing streets.
Do not allow children to play near streets
Children playing near streets creates an unnecessary opportunity for the child to be in danger with cars. Whether it is a ball rolling out into the street or the ice cream truck, you should not allow the opportunity for a child to run into the street. Only allow children at your house to play inside or in the back yard, assuming your yard is fenced in and away from a street. Allowing them to play near a street should be avoided at all costs.
Teach children to wait for you at the playground and not on the side of the street
Children who wait for parents near the street to be picked up after school are putting themselves in another unnecessary risk situation. It may take more effort on your part to park the car and walk to the child on the playground or after school spot, but it is well worth keeping them safe.
Children that are young may run to you or a family member's car when they see you because they are excited to see you so do not let them take this risk. Arrange with your child for a meeting place where you will get out of your car and come to them. That way they can walk hand in hand to your car across a street if necessary.
Meeting them on the playground can add extra play time and fresh air – perfect for children and adults as well. It can be a chance for you to wind down from work and relax or get some exercise.
If your child is playing outside or near a gate to get outside, always monitor them
Children like to find ways to push the boundaries of parents. It may be difficult but you should monitor your children regularly when they are playing outside or near areas where they could get outside to a street with cars. Even if your spouse is outside and they want to go find them, someone should always have an eye on the child so they do not get into the street or behind your spouse's car when they are back up.