Lane sweeping in Seattle is the cause of a lot of traffic downtown, especially for cars taking left turns. No I am not talking about sweeping with a broom to clean dirt off the ground. I am talking about a driving maneuver where one car passes over a lane illegally.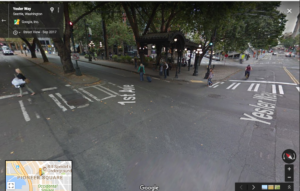 Lane sweeping is one of the most common illegal driving maneuvers that most people do not even know is illegal. Lane sweeping is where a car take a right hand turn and doesn't turn into the lane closest to the curb but rather passes over this lane and into the next one.
Most people turn into the second lane because they perceive that their car cannot turn that tightly to get into the lane closest to the curb. However, all cars except for certain semi trucks and buses are capable of turning into the lane closest to the curb.
Unfortunately, this type of behavior can cause traffic jams when oncoming cars are prevented from turning left because the car in front of them decides to take a wide right turn into the second hand lane. The car turning left the opposite way of the car actually has the right to that lane, however, most people will cede that lane to other cars in order to avoid a car accident or because they do not know the actual law.
One particular trouble spot where I continuously run into this problem is the intersection of Yesler Way and 1st Ave in downtown Seattle trying to turn left from eastbound on Yesler onto 1st AVE. Cars going west on Yesler constantly lane sweep during their right hand turn onto 1st AVE not allowing cars turning left to make a turn until there are basically no cars going west on Yesler.
Washington State law states that cars taking a right turn must turn into the lane closest to the curb. Cars that turn into the next lane over are actually committing a crime of illegal lane change, which is subject to a fine and is a moving violation that could make your insurance rates go up.
If you have been injured in a car accident by someone turning into your lane or doing a lane sweeping maneuver, call a Seattle personal injury lawyer today for your car accident. You could be entitled to compensation for pain and suffering, medical bills, and lost wages.