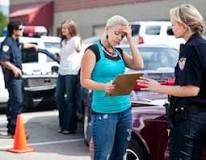 If you are injured in a car accident, there are a few things you may not know that you have to do in order to protect your case.
Immediately after the car accident you should try to get witness contact information. Any cars that you see around you after a car accident, you should flag them down and try to get their name and phone number in case the other person tries to lie about what happened. Witness statements are critical to determining who was at fault for a car accident when it is one person or family saying something and the other person saying something else.
Witness information is better than a police report in most situations where fault is questionable because the police officer didn't see the car accident happen in most situations so their report is hearsay and for the most part impermissible evidence. However, the police report can be helpful in other ways by collecting information like witness contact information, driver's license information, and insurance information. Police reports are very helpful to get one if you can.
Additionally, if it is a hit and run situation, your insurance company will require you to file a police report in order for you to get some of your auto insurance benefits such as uninsured motorist insurance (UIM).
After getting information, you may want to call AAA if you have it. AAA provides towing under most plans and they can tow your car to your house, where some independent companies will keep your car in a tow yard. The tow yard will charge you for each day your car is in the tow yard. Because of this, you will want to contact your insurance company and tell them about where your car is and the other insurance company for the at fault driver so that your car is taken out of there and gets paid for without any unnecessary expenses.
Your insurance company may require you to give a recorded statement to them as part of your auto insurance policy following a car accident. You must give them a statement about what happened and your injuries to the best of your knowledge so that you can get PIP benefits and other benefits. However, you do not and should not give a statement to the defendant's insurance company about your injuries and how the car accident occurred, as they will use it against you.
When you contact your insurance company or the defendant's about your car in a tow yard, you should also set up a rental car with them while you wait for them to estimate if your car is a total loss or if your car can be repaired. You may want to start car shopping as soon as possible to find a replacement car if your car is totaled. However, you should expect to get what your car Kelly Blue Book's for, as that is what most insurance companies use to estimate car value. They may also pull a list of similar cars near you for sale and find a price that way.
The defendant's insurance company will not pay for your medical bills right now and will only pay once you settle with them for your personal injury damages, separate from car repair damages. Because of this, you will have to use your medical insurance and your personal injury protection (PIP) through your auto insurance policy to pay for medical bills while you wait to settle your case.
When you call your auto insurance, you should get a claim number for your personal injury protection insurance (PIP). You can use this claim number to pay for your medical treatment such as chiropractic, physical therapy, massage therapy, acupuncture, etc. Most people have $10,000 in PIP benefits but some have the higher amounts of $20,000 or $35,000.
If you go to the hospital or medical doctor after the car accident, it is best to give these places your medical insurance information first as your medical insurance will have contract rates which will lower the amount you will owe and will not blow through your PIP.
As soon as you physically can, you should call a Seattle car accident injury lawyer for a free consultation on your case. A Seattle car accident injury lawyer will be able to set up all your insurance benefits and make sure you get them all. They will also be able to stop the defendant insurance company from hounding you with pressure to settle for fear of mounting medical bills. Your lawyer will also be able to stop collection actions in most cases and be able to set you up with medical providers who will wait to get paid out of the settlement if you do not have PIP or good medical insurance to pay for your medical bills right now.