The leading cause of deaths among children under 12 is car accident related injuries. Seattle has some of the worst traffic in the US and there are a lot of people driving in the city that are not familiar with all of the streets, hills, and rules of the road. Couple this with driving around with a young child and you want to do everything you can to keep your child safe.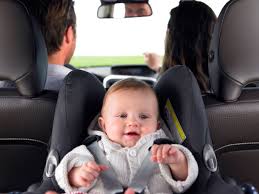 Washington State has one of the strictest laws on child car safety. The law was created in response toa Walla Walla parent, Autumn Alexander Skeen who lost her four-year-old son, Anton Skeen in a rollover collision. Anton was using a seat belt in accordance with state law at the time.  Yet,  because seat belts are built for adult bodies, he slid out of his seat belt and was thrown from the vehicle and crushed in the collision.
If you do not follow the law correctly, you could receive a ticket for not properly restraining your child for $112 for each child. Children are far more likely to be injured in a car accident when they are not properly seated in the car with the right safety restraint devices for their size and age.
However, if you get a ticket, know this. The state created a clause in the law that will actually allow you to not have to pay the fine so long as you can prove that you went out and purchased a child booster seat or car seat. They figure that the fine would be better spent on keeping the child safe.
Here are the basics of the law: (These are not manufacturer recommendations though so check those to make sure you are in compliance)
Children under age 8, unless they are 4'9″ tall (whichever comes first), must be restrained in an appropriate child restraint system (car seat or booster seat).
Children 8 years old or at least 4'9″ tall who wear a seat belt MUST use it correctly (never under the arm or behind the back) or continue to use a child restraint.
Children less than 13 years old must ride in the back seat of cars, unless there is no back seat.
Child restraint system must be used correctly according to the car seat AND vehicle manufacturer's instructions. Always follow the manufacturer's instructions and guidelines for both the child restraint and the vehicle.
You can read the full law here at RCW 46.61.687 
The law is very vague and provides that you must follow the proper instructions by the manufacturer. Different car seats have different weight limits and different sizes requiring different positions.
Rear Facing Car Seats – 2 Years or Younger and weight limit- Generally, a child must be in a rear facing car seat until they are two years old or have outgrown their seat according to the manufacturer's guidelines. Rear facing car seats in the back seat are the safest position for your child and should be left in this position as long as possible, until they meet the guidelines for change. The middle back seat is the safest to protect from side impacts.
Infant car seats are generally only made for rear facing children and are not made for forward facing positioning once they have outgrown rear facing. Infant car seats are generally lighter and have carrying handles. These generally have lower weight limits and don't last as long as convertible car seats.
Convertible car seats are much bulkier and do not have handles on them. These are made to both be positioned rear facing and then forward facing once your child is big enough. These are made so that your child can stay rear facing longer than infant car seats. Most convertible seats have weight limits for rear facing up to 40 pounds.
Forward Facing Car Seat – Generally, forward facing car seats have guidelines that state that a child must be in the car seat from until they are 65 pounds and less than 4'1″ tall. Some children will get too tall for their car seat and require a booster seat and an earlier age than others.
Booster Seat – Booster seats are made for children who have outgrown their forward facing car seat. Generally, booster seats are for children until they are 4'9″ tall. Booster seats are generally only for children who are at least 40 pounds and have outgrown their car seat.
Seat Belted in Back Seat – In Washington State, a child may not be only restrained by a seat belt until they are at least 4'9″. Children must ride in the back seat until they are 13 years old, under Washington State law.
Note: Just because a child is 8 years old does not mean that they can safely be seated in a safety belt alone. Children should continue to follow manufacturer's guidelines and use a car seat or booster seat until they recommend not to.