Children are the most vulnerable to injury in a Seattle car accident injury case. In order to protect them, many manufacturers are creating the optimal technology to keep our children safe in a car accident. That is why today's car seats are made deeper, stronger to hold babies that are bigger than normal babies, and safer. Rear facing car seats are the best for children in head on collisions.This is because of the law of physics and motion where your body will tend to go where the impact comes from. Rear end collisions are not as likely to be as fatal as head on collisions, for this reason, car seats are safest for babies when they are facing backwards.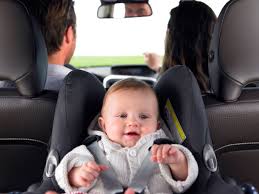 The optimal position to keep children away from harm in a car accident is reversed in a car seat in the middle position. This is because the reverse facing car seat will protect children in case of a front end head on collision. A head on collision with a rear facing car seat will have the car seat actually cradle the body and head of the baby versus the baby's head, arms, and feet flailing with a forward facing car seat.
A 2007 study in the journal Injury Prevention that found that children under age 2 are 75% less likely to die or be severely injured in a crash when in a rear-facing car seat.
Riding rear facing is recommended until a child reaches age 2 or the highest weight — typically at least 35 pounds (about 16 kilograms) — or height allowed by the car seat manufacturer.
Convertible car seats are good places to start and invest because you can go from rear facing to forward facing when your baby grows out of rear facing car seats. Car seats are expensive but are vital to your child's safety and well being.
When your child reaches age 2 or the rear-facing weight or height limit of the convertible seat, you can face the seat forward. When you make the switch:
Install the car seat in the back seat according to the manufacturer's instructions, using either the seat belt or Lower Anchors and Tethers for Children (LATCH) system.
Use the tether strap — a strap that hooks to the top of the seat and attaches to an anchor in the vehicle — for extra stability.
Adjust the harness straps so that they're at or above your child's shoulders and fit snugly.
If you know of anyone injured in a Seattle car accident, contact a Seattle personal injury lawyer for a free consultation today.