Did you know that the type of music you listen to can affect your driving tendencies and make you much more likely to get into a car accident? It can also determine if you get pulled over for speeding, running red lights, and increase the chances of you getting into a high speed car accident. I've noticed it myself in my own driving and others but finally a study was done to prove my subconscious hypothesis.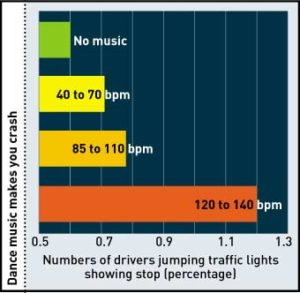 An Israeli study connected test subjects to heart monitors and put them through a driving simulator while they listened to music of varying tempos. A no-music control group experienced significant heart rate fluctuation while driving — that is, their heart sped up when things got exciting, like if a pedestrian jumped in the street. But those who were listening to any type of music saw their heart rate stay level.
At first glance, this suggests that the drivers who were listening to music were more calm, and thus more careful drivers than the control group. But it was the opposite  was actually true. The people listening were calm (maybe), but only because they were less focused on driving than the control group — they were placated by the music.
The study also showed that drivers who were listening to higher-tempo music (between 120 and 140 beats per minute, the speed of most dance and techno music) were twice as likely to blast through red lights and had twice as many accidents as those who were listening to slower music or the deafening echo of their own thoughts.
Moral of the story: If you want someone to drive slower, turn the station to something with little beat to it such as smooth Jazz, talk radio, books on tape, or classical music. Skip the EDM music if you want your driver to drive slow, unless you want to get somewhere quickly.